Irelands only Ice Machine Manufacturer
Meeting the requirements of the Seafood Industry ashore and afloat
Evolving within the Irish Seafood Industry, we have designed and produced a range of products to meet our customers requirements for  quality, simplicity, efficiency, affordability and low maintenance.
All of our products are designed and manufactured to robust Marine Engineering standards.
Our efforts are closely focused on meeting the present and future needs of the Sea Food Industry.
HYDRAULIC ICE MACHINES
Hydraulic ice machines provide an effective means of producing ice on many vessels that do not have the required electrical power for an electric machine.
INDUSTRIAL ICE MACHINES
Industrial Ice Machines are designed for use on shore. Assembled in a modular unit requiring only connection to power and water the units have extremely small dimensions.
ONBOARD ICE MACHINES
Our trawler ice machines are proving to be very reliable, economic and effective pieces of equipment, the small dimensions and the high production capacity mean that they can be used on the smaller vessels as well as the larger trawlers with higher ice requirements.
We are based in Kilkeel in Northern Ireland, home port to one of the largest fishing fleets in the country. The vessels in the fleet are representative of the majority of vessels around the Irish coast. Many of these vessels would spend a substantial sum on ice per year which would justify the investment in an on board Ice Machine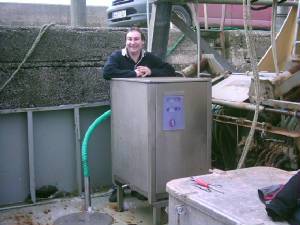 Alan Browne, skipper, Ocean Dawn, Fenit, Co Kerry